Customers today have a dizzying array of channels and touchpoints to choose from when they set out to solve specific pain points.
Which channel(s) they start with and how their purchasing journeys unfold from there are essential in figuring out where, when and how a brand engages with them to get a desirable outcome.
If your message is out of sync, it doesn't matter if you're the best solution, your customer will likely pass you by and pick another one that seems to sync better.
The journey mapping exercise, when done well, visualizes customer behavior and interactions across channels, touchpoints and marketing stages. And that is essential in delivering the right message to the right consumer persona at the right touchpoint.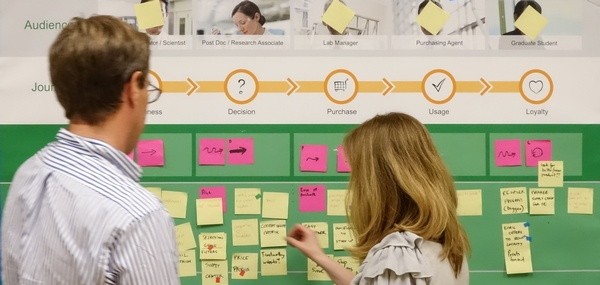 From 5 to 50​
1. Specify the customer-facing issues​
Over the years, I've run customer journey mapping workshops that involved as few as 5 to as many as 30 participants. I've had spectacular results and ones that left something to be desired. I've learned a few key lessons that have helped me become successful.
If you can answer these questions before you kick-off the exercise, you'll have much higher odds of getting actionable outcomes from running your own exercises.
Specific: how do we improve conversions on our site for new purchasers
Non-specific: how do we optimize our site e-commerce experience
Specificity is critical. Being specific doesn't mean being narrow, just focused. From years of doing these exercises, I've realized that this helps in all aspects from facilitation to finding insights, but most of all in getting the right people to participate, and tell them why we really need them.
2. Are your personas clearly defined? A lot of customer journey exercises start with the 'User" or "Segment X".
This is not a show-stopper. Where it does fall short is in the quality of insights you get at the end.
Empathy is key to mapping a person's journey. By not being able to visualize the user or segment as a person, people have difficulty mapping that consumer's journey. What you create is an empathy gap.
For example your Segment X – New purchaser, Woman, 24-35. This can translate to

It's far easier to visualize each of the two persona's journeys over a combined, amorphous "Women, 24-35 segment".
Persona 1: Urban woman, 26, Professional, Single
Persona 2: Suburban woman, 35, Housewife, 2 kids
I've seen people struggle to visualize journeys using amorphous Users/Segments, but just add a few persona style attributes, and the change is transformational.
Solution: Create at least ONE persona per segment you're interested in. Then pick the most important segment's persona to start with.
3. What stages have the biggest gaps?

You can map complete journeys from Awareness to Advocacy if you have enough time, well-defined personas and a decent understanding of customer interactions. That combination is rare. So for client-facing customer journey exercises, I tend to focus on part of the journey and set up the problem accordingly. We might focus on the journey from Awareness to Conversion, or Conversion to Advocacy or simply Conversion – Activation. This helps in multiple ways. We are able to map journeys for more than one segment. We can pinpoint the most likely interactions across channels that help identify gaps and find competitive opportunities for the brand.
4. Who do you need to participate?
In a customer journey workshop, you only want people who can fall into one of these camps
Understand the product or service (Product/Service Leads)
Understand customers/customer insights – (Customer knowledge)
Impact customers directly (Marketers, Sales – need to understand how to make better campaigns/features/selling…)
Executive sponsors – ensure participation, focus, and purpose
Ensure you have at least one from each camp. Then try and limit participation to fewer than 15. The more the number of people, the longer it takes – since you want all participants to contribute – and the greater the dilution of focus.
5. What can you solve ahead of time?
There are five pivotal components of a customer journey: Brand promise Customer personas Marketing stages Emotions Channels & Touchpoints Working through all of them in one session is a guaranteed recipe for disaster. So how do you prevent that from happening? What helps me be successful is pre-fill / have ready one or more of the components. At a minimum, I have the brand challenge and the target personas filled-in, ready to go.
6. How will you keep everyone focused during the actual exercise?
Modern technology has rendered us unable to maintain focus for more than a few minutes. From blinking LEDs on phones to mail notification sounds, distractions are within easy reach. And when you're in a thinking session like this one, your brain would love a break, any distraction will do – electronic or otherwise. The goal is not to shut them all out, but have defined times when people can get that break. Doing so will allow your team to stay focused longer, and you'll get better results. What I do is allow laptops in the room, but have them closed as a rule. Then I also have everyone on their feet, next to a big whiteboard/poster, which not only keeps everyone engaged but also mitigates the sneak peek. Finally, I have a parking lot area to capture insights or questions that are starting to lead us away from the journey.
7. How will you visualize (and socialize) your insights?
People want to know that they were helpful. In a customer journey exercise, your participants will often leave with more questions than answers – from their customer knowledge gaps. So towards the end of the exercise, I highlight all the insights that we obtained from our exercise. And secondarily, I'll point out the gaps, with an indication of how we'll address the gap (customer research and data) And finally, a week or so after, we'll do a presentation to the executives, highlighting customer journey flows and insights with a shout out to the participants. That goes a long way in getting UX support and future participation.
Recap
There are many ways to run a customer journey mapping workshop. Not all of them result in insights that actually move your understanding of your customer forward. Focus on these steps to make your exercise worthwhile. Focus on a specific customer-facing problem to solve Use clearly defined personas over segments/audiences Focus on a limited set of stages of the journey Make a list of participants, especially the in-person attendees Seed with information to facilitate kick-off Maintain focus during the exercise Have a plan for visualizing and selling-in your insights Have you faced challenges when trying to understand customer journeys? Share them in the comments below.